Hi Karen, with interest rates expected to rise, should I borrow as much money as I can for a student loan?
- Monique, Columbia, MD
Monique, that's a smart way to think about y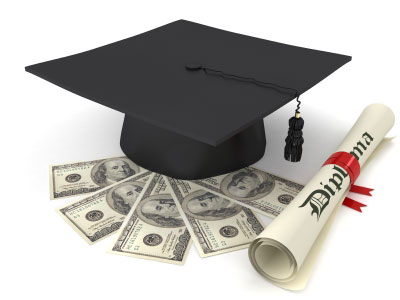 our money! My advice would be to borrow as little as possible, if you must borrow at all. Have you exhausted all scholarship and grant applications?
Student loan debt is a serious problem both on the personal and the national level. According to the Federal Reserve Bank's 2014 Report on Household Debt and Credit, student loan debt ($1.1 trillion) is second only to mortgage debt ($8.05 trillion) and handily outpaces auto loan debt ($88 billion). 40 million students carry an average student loan debt of $29,000, forcing them to delay major life decisions such as buying a home, having a medical procedure performed, retiring, having children and getting married (in that order according to a study conducted by the American Institute of CPAs).
The social cost of such a debt load is also high. If you are under 24 years of age, the maximum amount of your student loan per year is from $5,500 for a freshman to $7,500 for a senior college student. Having to repay student loan debt within 10 years creates a huge imbalance in the nation's workforce, as higher paying jobs are needed to repay loans – creating more investment bankers than teachers.
If you must take out a student loan, there is a bit of good news. Federal student loan rates are determined by adding interest onto the 10-year Treasury note rate, and are set on July 1st. While 10-year Treasury rates have risen this year, they remain 0.33 percent lower than July, 2014, which means rates on federal loans taken out as of July 1, 2015 will fall anywhere from ¼% to 3/8% from last year.
You may be eligible for another ¼% reduction in rates if you agree to have monthly payments automatically deducted from your bank account once you start repaying the loan. Not all loans have grace periods. Some loans give you six months to get situated before repayment begins. However, interest begins accruing the moment you graduate, leave school, or are enrolled less than half-time. You may also qualify for forgiveness, cancellation or discharge if you meet certain requirements and are deemed eligible for consideration. For more information click on: https://studentaid.ed.gov/sa/repay-loans/forgiveness-cancellation
Lastly Monique, don't let the cost of a college education stop you from pursuing your degree. Studies have shown that with a college degree, you can make on average $20,000 more a year than a high school graduate, and that wage gap grows as you get older. Jobs requiring only a high school diploma are rapidly disappearing, and middle management increasingly must possess a higher education degree to advance.
Best of luck to you!