Karen, is it me or does it seem like gas prices always increase during the summer months, especially around holidays? Why?
- Beltway Bob, Catonsville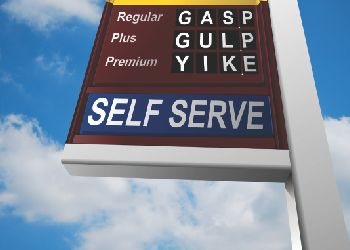 Bob, you've hit upon one of the basic theories of economics, price theory and the laws of supply and demand. When there is more demand for a product than supply, prices tend to rise. When there is more supply than demand, prices tend to fall.

Seasonally, more people are out and about during the summer months, increasing demand for gasoline. Gasoline is a derivative of crude oil, as is heating oil. Through the refinery process, one barrel of crude (42 gallons) will make 11 gallons of heating oil and 19 gallons of gasoline. The rest is used for diesel and jet fuels. During the winter months, refineries pump out more heating oil; during the summer, gasoline is the dominant product.

When the global marketplace is awash in crude oil (as it is now), the price of a barrel of crude will fall. Crude oil prices have plunged from a high of $145/bbl in 2008 to as low as $27/bbl just this January. Stabilizing now around $50/bbl, this translates into an average price of $2.29 per gallon of regular gasoline, according to recent data from AAA.

Today gas prices are at an 11-year low, spurring many to take to the roads this long Independence Day holiday weekend. AAA estimates a record 43-million drivers will go at least 50 miles for a getaway this weekend.

Along with supply and demand factors, government policy comes into play. As of July 1, 2016, the Maryland gas tax will rise nine-tenths of a penny to $0.335 cents a gallon thanks to 2013 transportation legislation.

Other Maryland laws as of July 1, 2016 that may affect you:

The minimum wage will rise to $8.75/hr from $8.25. This is the first of three hikes approved in the General Assembly's 2014 session. The next hike will be to $9.25/hr in 2017 and $10.10/hr in 2018.

The College Affordability Act of 2016 prohibits institutions of higher learning from referring delinquent student debt to collection agencies. Also if your student loan debt is more than $20,000 you may be eligible for a $5,000 tax credit.

College savings investment accounts opened after December 31, 2016 may be eligible for state matching funds of up to $250/year per beneficiary as long as you meet certain income, residency and application criteria.

For employees without access to an employer sponsored savings plan, Maryland will offer the opportunity to establish an IRA, make contributions and opt out of the program if so desired.

Lastly, fees on birth and death certificates will fall to $10 from $24.

Enjoy the summer weather!